Is there any interest in a fairly simple ...almost plug and play R/C interface for the Penny and Giles range of controllers?
I currently have a working setup that needs a modified ribbon cable to finish it ( the current ribbon cable has been hacked about for testing ) ..I'll then offer it for BETA testing to anyone that has their own R/C gear ..
Procedure for fitting.
This ribbon cable will be replaced with a modified one ...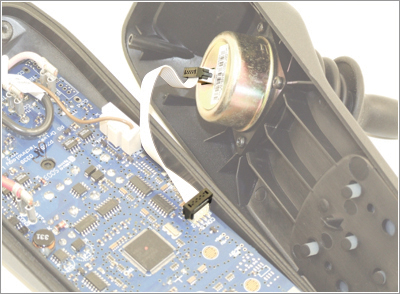 There will be the addition of an external interface box ...so a 10 mm slot / hole will need to be made in joystick housing to allow the wires to pass to and from the box.
Power for the interface ( 24v ) can be from where ever is convenient .... XLR Charging port...Main Batteries .. or from inside the Joystick if you feel brave.
Hopefully ON/OFF of the Chair via the R/C Transmitter ... I can already do this with the VSI I have ..but would need to identify the place on other joystick boards to make the connection.
Price .... probably around £100 WITHOUT the Radio Transmitter and receiver and at least £200 with.