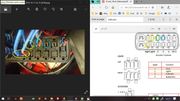 Yellow circles equals front and rear lights, left and right.
Green circles equals backrest recline.
The above are all working like that. All the lights work adequately, and the backrest goes up and down.
Now I'm trying to wire in the indicators. On the wiring diagram it says use 3 equals blue circle. How do you do this? 2 sets of indicators left and right, go on the 2 terminals in the blues, may be left side positive and right side negative???? I'm doing something wrong here.
Any advice appreciated, Tremulous Tetra. :-)