On my Lifestand wheelchair the wheel bearing race has got seized in the wheel. Does anybody have any ideas of how I could remove it?
Here is a picture of the hub with the race stuck in;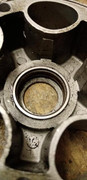 and here is a picture of the other hub where the bearing has come out.
Any advice appreciated, Tremulous Tetra. :-)