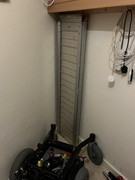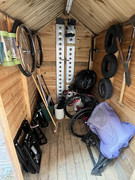 Why are they always so bloody heavy!
I have channel ramps which are lightweight, but no good for power chair cos rear and front wheels are not in line. Plus the castors can't swing in narrow channel. Channels ramps are okay for mob scooters.
I was given this suitcase ramp by Occupational Health, it's good but so bloody heavy! considering it's aluminium. I don't like asking people to use it for loading power chair into car/van.
I was wondering whether you can get lighter versions? I notice that fold down WAV ramps tend to be made of perforated/mesh aluminium. It would be good if suit case ramp could be made the same.
I wonder in a DIY ramp could be knocked up using aluminium channel and aluminium mesh?
Also what's the shortest length ramp could be used for average MPV or VAN?
Shorter means steeper, I stand with frame or crutches when loading powerchair. And I guess an empty power chair could climb a really steep slope as long as someone else was sat in chair and not me!
Humorous:
https://metro.co.uk/2014/09/05/seven-ut ... s-4858613/
(Lots of pop ups and ignore trans/pride logo colours